| | | | |
| --- | --- | --- | --- |
| Managing Director | General Manager | | |
---
TBRM Engineering solutions (previously Segula Technologies Nederland B.V) is part of the TBRM Group. TBRM-ES is an engineering company which operates internationally and aims at supporting customers by providing services from consultancy to complete project solutions including delivery of hardware, which are carried out either at the customer's location or at TBRM-ES.
TBRM-ES aims at providing innovative solutions for both existing OEM companies, as for small start-ups: Together we can create opportunities!
In addition, we aspire to be a company which distinguishes itself with a high degree of commitment, honesty, accessibility, professionalism, customer focus, quality, and an entrepreneurial spirit, where the team element is paramount in the working environment.
Eigenwijs en gek van techniek: in zijn talentenfabriek in Geldrop sleutelt Marc Evers aan nieuwe ASML's
maart 28, 2021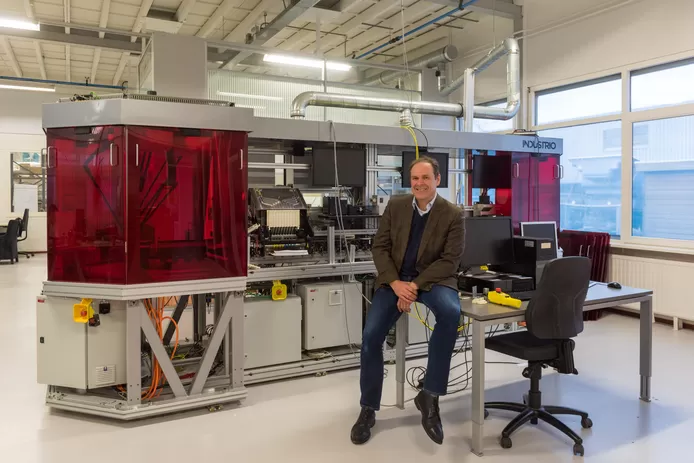 GELDROP – 'Talentenfabriek' noemt Marc Evers zijn broedplaats voor jonge technici in Geldrop. De voormalige KMWE-techneut wil er nieuwe ASML's kweken. Lees verder [Bron: ed.nl]
TBRM-Engineering Capacity
november 3, 2020

TBRM-Engineering Solutions announces the start of TBRM-Engineering Capacity (TBRM-EC). TBRM-EC will take over the current business, related to flexible engineering capacity. TBRM-EC will have full focus on providing solutions for flexible capacity, by secondment or recruitment, while TBRM-ES will have full focus on in-house projects for customers. TBRM-Engineering Capacity is proud to present, Paul van Tiel in the role of CEO. Paul will bring his extended experience in engineering and management.
TBRM-Engineering Solutions Acquires AMK Techniek BV
oktober 30, 2020
TBRM-Engineering Solutions announced today the acquiring of AMK Techniek BV and the merger of their business operations to offer a unified engineering solution to the market. TBRM-ES will acquire the assets, people and customer contracts and the merged business will operate under the TBRM brand. Read more
TBRM Engineering solutions took over AMK Techniek BV
oktober 3, 2020

AMK Techniek BV is a successful company that develops sustainable prototypes and machines, whereby these prototypes and machines are used to optimally contribute to the business processes of different organizations. We warmly welcome all AMK employees as TBRM-ES colleagues. Together we can create opportunities!
Segula Technologies Nederland B.V. has been taken over by the TBRM Group
september 15, 2020

As of the 1st of June 2020, Segula Technologies Nederland B.V. has been taken over by the TBRM Group. This means that we will continue under the name TBRM Engineering solutions. TBRM group is a technology driven investments and technical/ financial consultancy company, helping high technical companies to grow and focus on getting things done through a community of people and companies. TBRM Engineering solutions is the engineering partner of the TBRM group.