| | | | |
| --- | --- | --- | --- |
| Managing Director | | | |
---
Salland Engineering is an international leading Test Technology & Engineering company specialized in solutions & services that enable semiconductor manufacturers to improve the efficiency and quality of their testing.
Salland Engineering is in business since 1992, headquartered in Zwolle – The Netherlands, and operates worldwide.
Our Solutions are delivered via an unique combination of innovative Test Technology and Realization including Instruments, Applications expertise and supply chain & test services. This enables us to provide an optimal solution to our customers who want to improve their test processes.
Instrument Solutions:
We design and manufacture high quality instruments that are used by our customers to upgrade the performance or channel density of their automatic test equipment (ATE) and/or Test & Measurement set-ups. These instruments provide a cost effective means for our customers to extend the throughput and useful life of their ATE investments.
Test Application Solutions:
We provide a wide range of engineering services including test program development and conversions, test program optimization, load board development and failure analysis. We are specialized in mixed signal, RF and High Speed test techniques.
Supply Chain & Test Services:
Besides development capabilities, we have in-house test and analysis equipment to offer chip testing from sample & process qualification up to mid-size volume production-test in Europe. We provide as well Supply Chain services from prototyping, manufacturing up to repair service for advanced measurement solutions.
Spectacular opening Test Technology Center
september 19, 2018
On Friday, September 14, 2018, Salland Engineering spectacularly opened its Test Technology Center in Zwolle!
With the launch of the Test Technology Center, Salland Engineering is accelerating the development of fundamental technology to test the latest generations of chips. The high-tech company from Zwolle works closely with the Saxion University of Applied Sciences, Eindhoven University of Technology (TUE) and the University of Twente (UT). Read more
Salland Engineering neemt Applicos over
september 15, 2018
Salland Engineering in Zwolle neemt Applicos in Heerde over. Zo wil Salland zijn groei versnellen en zich verder specialiseren in productietestoplossingen voor elektronica van de toekomst. Lees verder [Bron: engineersonline.nl]
Salland Engineering opent nieuw testcentrum voor chips in Zwolle
september 13, 2018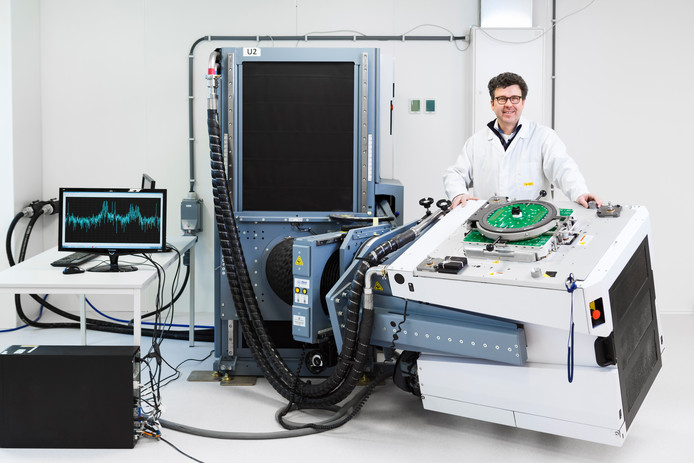 Salland Engineering opent vrijdag een eigen Test Technology Center in Zwolle. Het bedrijf wil ermee de ontwikkeling van de technologie versnellen om de nieuwste generaties chips te kunnen testen. Lees verder [Bron: destentor.nl]
Grand Opening Salland Test Technology Center
augustus 31, 2018
Over the last 25 years we have delivered many test solutions, making use of innovative technology & processes. Often developed by ourselves but many times in close cooperation with our customers and business partners. To accelerate Test Innovation, we moved to a new, modern and larger facility, acquired an Analog Test company, tightened the relationship with our business partners and launched the Test Technology Center. Read more
Salland Engineering now ISO 9001:2015 certified
augustus 9, 2018
Salland Engineering is certified for ISO 9001:2015 on August 9, 2018. The certification was carried out by certification company DEKRA, one of the largest testing and certification institutions in the world. This demonstrates that our business processes and systems meet the ISO 9001:2015 standards. Read more
Salland Engineering moved to a new location
april 16, 2018

Our new location accommodates further growth and provides much more floorspace to serve you even better on wafer (6″ to 12″) and packaged production test. Recently we installed our new Teradyne UltraFLEX test system with UltraWave24 RF test option and all our ATE is prepared for production. Salland Engineering is now ready for the future and further expansion.
Salland Wins Golden FD Gazelle 2012
november 20, 2012
Salland Engineering International, B.V. was recognized today by the Financial Daily newspaper of the Netherlands as the fastest growing, medium-sized company for 2012 in eastern Netherlands. The Golden FD Gazelle 2012 award was accepted by Paul van Ulsen, CEO of Salland Engineering.
Salland delivers fully Integrated Solutions for High Volume Testing of Ultra-fast SerDes Applications
oktober 23, 2012
Increasing Speeds Present New Challenges
The fundamental technology at the heart of all high speed serial communications today is SerDes (serializer/deserialzer.) Applications for these serial interfaces occur both on system backplanes as well as cable or optical links like multi-gigabit Ethernet, optical networking, imaging interfaces, etc.