| | |
| --- | --- |
| Hightech Campus 31 | T: +31 40 40 20 400 |
| 5656 AE, Eindhoven | F: +31 40 40 20 699 |
| The Netherlands | Email - Web |
| | | | |
| --- | --- | --- | --- |
| Business developer Flexible printed electronics | Director Flexible and Free form electronics | | |
---
At Holst Centre we develop, innovate and connect. We are an independent research and innovation centre, jointly operated by imec and TNO. We develop technology that responds to the global societal challenges of tomorrow and contributes to a healthier and more sustainable world. Our innovations are aimed at improving the vitality and wellbeing of people, and ensuring sustainable environments. We strengthen the economic power of our industry partners by developing world class, breakthrough technology solutions that they can bring to their markets. To help solve global challenges, we connect the Dutch Brainport region with a global ecosystem of industry partners and academia, enabling them to take advantage of each other's profound expertise.
Wireless sensor technologies and flexible electronics
Combining expertise in wireless sensor technologies and flexible electronics under one roof puts Holst Centre in a unique position. Our partner companies particularly value our ability to develop demonstrators and prototypes. Building on this proof-of-concept, they turn our technologies into new products and new manufacturing processes. Often, we take technologies to the point where they are almost ready for market. Through knowledge transfer, we contribute to the expertise and market position of our partner companies, frequently increasing their turnover, and the number of jobs they have to offer.
Open innovation models
The goal of open innovation is faster, cheaper and more effective innovation, reducing risks and creating a rapid time-to-market for new products. At Holst Centre, partners complement their own exclusive R&D with shared R&D, leveraging each other's talents and know-how in a well-structured and professional setting. Typically, Holst Centre results are shared on a non-exclusive basis between program partners according to customized agreements, tuned to each partner's needs and situation.
Whenever appropriate, Holst Centre also executes dedicated research trajectories in a one-to-one business relationship with a single partner. We often do this to speed up the technology transfer and industrial uptake of results obtained in shared research, that have reached a higher technology readiness level. Also, this model helps in our collaborations with SMEs who typically have a shorter R&D horizon. For these collaborations, dedicated partnership and IP agreements are discussed with the companies involved.
Our background
Holst Centre, set up in 2005 by imec (Belgium) and TNO (The Netherlands), is supported by local, regional and national governments. It is named after Gilles Holst, a Dutch pioneer in Research and Development and the first director of Philips Research. Located on High Tech Campus Eindhoven, Holst Centre benefits from, and contributes to, the state-of-the-art on-site facilities. Holst Centre has over 180 employees from 28 nations. We currently have 56 industrial partners and 45 ongoing funded projects in our portfolio.
Thin-film technology for safe, non-invasive medical imaging
april 3, 2021
High-quality medical imaging is the cornerstone of diagnostics and an increasing suite of image-guided therapies. Using thin-film technologies, TNO at Holst Centre is opening up new possibilities for various medical imaging modalities by offering detection over larger areas. Read more
Hybrid Printed Electronics TNO Holst Centre
maart 20, 2021

This video captures innovations in Hybrid Printed Electronics from TNO Holst Centre.
Enhanced comfort and safety in future cockpit design
maart 19, 2021
Lotte Willems, business development manager, TNO at Holst Centre, highlights the latest in car interiors: transparent displays, safe and programmable interfaces and sensing chairs. Read more [Source: oating-converting.com]
TNO at Holst Centre launches 3d battery spinoff lionvolt
maart 4, 2021
TNO is spinning off its 3D battery activities from Holst Centre under the name of LionVolt BV. LionVolt will now accelerate the development of a revolutionary solid-state battery based on the 3D technology created by TNO at Holst Centre over the past five years of R&D. This has resulted in a proof of concept (PoC) and LionVolt is in the process of finalizing its seed funding to help execute accelerated development of 3D-batteries. Read more
PHILIPS LANCEERT DE HEALTHDOT SENSOR WAARMEE PATIËNTEN 14 DAGEN BINNEN EN BUITEN HET ZIEKENHUIS GEMONITORD KUNNEN WORDEN
maart 3, 2021
De Healthdot wordt in Eindhoven geproduceerd en is daar ook ontworpen in samenwerking met het Holst Centre. Het gebruik is gevalideerd in samenwerking met het Catharina ziekenhuis. Lees verder [Bron: philips.nl]
Breakthrough in hands-free, at-home ultrasound monitoring
februari 18, 2021
By combining its extensive knowledge on ultrasound technology, printed electronics, and health patches, TNO at Holst Centre has taken solid first steps in a next generation hands-free, low-cost, at-home ultrasound monitoring solution. Read more

TNO at Holst Centre develops cuddle vest
januari 23, 2021

A year onwards, COVID-19 is still among us, and hitting us hard. Restrictions to battle the disease are in place worldwide as we try to keep our healthcare systems up and running. As a result of this current pandemic, people are expected to keep a safe distance from each other. No more hugs from friends and family, no more slaps on the shoulder from colleagues. But when people are not allowed to get close physically, feelings of loneliness and insecurity can arise. With International Hugging Day coming up on 21 January 2021, we need an alternative, and that is just what TNO at Holst Centre has made possible. Read more
Injection over-moulded light in curved shape
december 19, 2020

TNO-Holst Center and TNO-Brightlands Materials Center have designed and fabricated an injection over-moulded flexible electronic demonstrator with high strength engineering thermoplastics. High design freedom is presented in this demonstrator since the flexible electronics enable the applicability of the product with significant curvature. Also the integration between engineering thermoplastics and flexible electronics is realized by adhesion, which offers an extensive freedom in product design and tooling design. Read more [Source: flexlines.be]
Biometrics technology
november 3, 2020
Can your house or an ATM recognize you just looking at your hand? Our technology platform makes a variety of fingerprint and biometric detectors possible that can be easily integrated into displays and other everyday objects. TNO at Holst Centre explains in this biometrics video how we've created image sensors for under-display integration and the world's most transparent optical large-area fingerprint sensor, and what are the benefits. More information about our technology.
Grote stap mogelijk richting 3D printen van elektronica
juli 21, 2020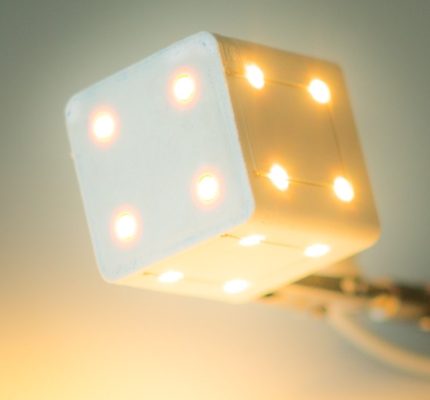 Holst Centre, onderdeel van TNO, wil de mogelijkheden van 3D geprinte elektronica verder uitdiepen. De technologie staat op dit moment in de kinderschoenen, maar er zijn al diverse proof-of-concept demo's ontwikkeld binnen het Hyb-Man consortium, waarin ook bedrijven als Signify, Bosch en Neotech zich hebben aangesloten. Lees verder [Bron: emerce]
3D printed electronics technology
juli 8, 2020
TNO at Holst Centre is further exploring the possibilities of 3D printed electronics; an emerging technology at the intersection of 3dprinting and printedelectronics. It combines structural and electronicmanufacturing into a single step.