| | |
| --- | --- |
| Collse Heide 1 | T: +31 (0)40 295 1444 |
| 5674 VM , Nuenen | F: +31 (0)40 295 1440 |
| The Netherlands | Email - Web |
| | | | |
| --- | --- | --- | --- |
| Commercial Director | | | |
---
Brilliance in BKL
BKL is a technical service provider in mechanics and mechatronics. We develop high-quality solutions enabling clients to work smarter, more efficiently and above all more safely: hoisting and lifting tools, industrial modules and machines. Our range of services include engineering, inspections, services and manufacturing. We provide services for partial processes and overall solutions.
Brilliance in Engineering
Smart engineering solutions can provide a considerable advantage. Just think, for instance, of more safety for your employees, more process efficiency and improved competitiveness.
BKL develops solutions to meet your requirements. As a technical service provider, we can provide the entire engineering process, from the definition phase until commissioning of the final product. Safety is of paramount importance to us. That is our engineering service for high-quality hoisting and lifting tools, mechanics and industrial modules.
Brilliance in Production
BKL is an OEM for OEMs. We supply high-quality work for high-tech companies. In terms of production, we have a wide range of employable skills. We are, for instance, the go-to company for built to print, or for fully operational machines according to your specifications. Prototyping and functional models are examples of other specialties, as are cleanroom assembly and repairs.
Our employees make all the difference: professional, driven and always "up" for a challenge. But above all we are guided by the principle that equipment should contribute to safe working conditions. This is something we never compromise on.
Brilliance in Inspection
We are safety experts and specialize in hoisting and lifting tools. As a manufacturer, we know these tools inside and out and as an inspection body we are ISO 17020:2012 accredited. We provide a broad range of services: from demonstrating the suitability for first use to conducting periodic inspections, tests and examinations.
BKL offers guarantees. Guiding principle in all our activities is our passion for safety. We leave nothing to chance and we do not compromise on safety.
Brilliance in Services
As a technical service provider in mechanics and mechatronics we combine knowledge and expertise in a broad service package.
We offer, for instance, consultancy, training, maintenance, repairs, reconditioning and tool management for your hoisting and lifting tools. This allows you to make use of additional capacity with which to create value, to increase efficiency and to promote safety.
A guiding principle for our work is our passion for safety. We leave nothing to chance and we will never compromise on safety. Our services are aimed at preventing incidents and dealing with (residual) risks in a responsible manner.
More information?
We would be more than happy to make time to discuss:
• the engineering solutions
• production
• inspecting, testing and examining
• the services
C-Beam hoisting tool
november 11, 2019

At BKL we still develop smart tooling. One of our latest additions is this custom C-Beam hoisting tool. This C-Beam is designed to hoist a product into a hard to reach place.
The cart provided with the tool is made to move the tool into the cleanroom.
Of course special attention has been paid to safe use of the tool, and guaranteeing an optional cleanliness of the tool while being moved-in.
Tools for handling pumps & pump-stacks
oktober 23, 2019

Recently BKL installed a new toolset. This toolset is designed for servicing, transporting, storing pumps and pump-stacks. Read more
Hoisting tool for grade II cleaning
september 28, 2019

At BKL we still make smart tooling, safe. One of our latest additions is this hoisting, handling and securing tool. This tool is specially made to hoist a product into a grade 2 cleaning machine and securing it in a sound and safe way. Read more
BKL in Nuenen krijgt bij groep bedrijven van Vado extra kansen
augustus 7, 2019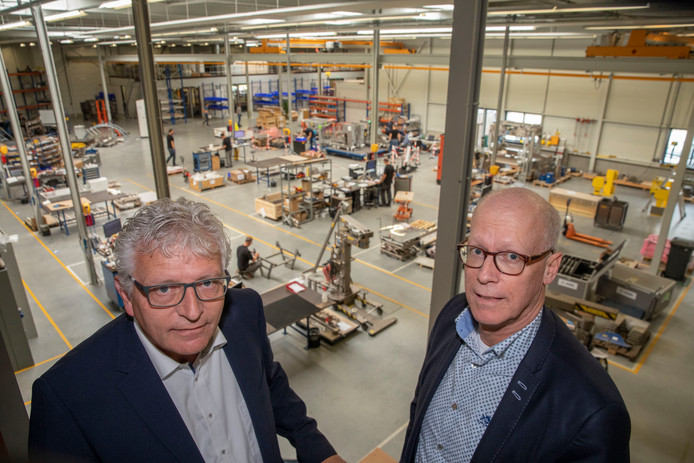 BKL wil zijn hijs- en hefwerktuigen graag ook voor andere bedrijven maken dan alleen voor de hightech met cleanrooms. Het Nuenense bedrijf hoopt als lid van Anvil Industries, onderdeel van de nieuwe eigenaar Vado, te kunnen profiteren van groepsvoordelen. Lees verder [Bron: ed.nl]
VADO breidt Anvil Industries uit door overname BKL
juli 4, 2019
Investeringsmaatschappij VADO Beheer uit Eindhoven heeft BKL uit Nuenen overgenomen. BKL is een gespecialiseerde technisch dienstverlener op het gebied van engineering en fabricage van hijs- en hefwerktuigen voor met name high-tech bedrijven in de optische en semiconductor industrieën. Lees verder
Installation of custom hoisting toolset (50t) in Germany
mei 15, 2019
Recently BKL successfully delivered and installed a custom hoisting toolset for its customer in Germany.
The toolset has been developed and realized based on the specific requirements of the customer. For this project special attention has been paid to cleanliness, usability and safety. The toolset has been installed in a newly built cleanroom and will be used for integrating and servicing a state-of-the art measuring machine.
Machine safety during its period of use
maart 27, 2019
In the previous article we focused on purchasing CE marked machinery. Once you selected and purchased a CE marked machine, it is your responsibility to keep it safe during its period of use. Read more
Accell bicycle frame test rig
maart 15, 2019
BKL has developed a new kind of automated bicycle frame test rig for Accell Nederland. Accell Nederland is market leader in bicycles with popular brands like Koga, Batavus and Sparta. Read more
Risk assessment: How to determine adequate risk reduction?
juni 30, 2018
In an earlier article the process of risk assessment is described. In this process it is necessary to determine whether adequate risk reduction has been achieved. That triggers the question: "What is adequate risk reduction"? Read more
BKL takes up art – Poetry Booster
maart 31, 2018

In the spring of last year, BKL was presented with an unusual request – we were asked to become involved in an art project – the Poetry Booster. We were intrigued and keen to take on this unique opportunity as it is different from our usual work.
CE marking: Documentation – A burden or common practice?
maart 21, 2018
Lots of times we get the question: "Is all this documentation required for CE marking really necessary?"
As stated in the machinery directive 2006/42/EC Annex VII it is necessary.
But in this article we will explain what the purpose of all this documentation is and how you should generate this documentation.
2006/42/EC – Machinery – references of harmonised standards published in Official Journal – Updated
maart 14, 2018
A new publication of titles and references of harmonised standards under Union harmonisation legislation has become available at Mar 9, 2018.
How to deal with changing (CE) safety requirements?
oktober 13, 2017
How to deal with changing (CE) safety requirements?
When the same  tool or machine is ordered after many years  since its first introduction,  e.g. for replacement or expansion purposes, the new to be delivered product should comply with the latest level of safety, legislation and standards. Proper Lifecycle Management with respect to product safety and compliance is crucial to prevent disturbances in the customers operational processes. But what is the "latest Level of Safety"? And how to make sure your product remains up-to-date?
BKL expands
juli 18, 2017
As a result of the positive developments in the market and the strategy chosen, BKL has experienced stable growth in the recent years. It is expected that this will continue and therefore needing more production and storage space.
How to ensure machine safety?
juli 11, 2017
Do you have a machine that you want to put on the market, or do you have a machine that you want to use yourself? Then this machine should be safe for the people working on it or with it. Question is how do you ensure the machine's safety. This all starts by performing a risk-assessment and risk reduction.
Successful pilot and Go-Live 3D CAD cloud computing with ASML
juni 13, 2017
Since many years BKL is a reliable Engineering partner for ASML. To ensure speed and stability of – mainly Engineering CAD – data exchange a dedicated leased data-line was in place.
This setup has been working well and efficiently but required both ASML and BKL to perform regular maintenance to keep the software installs in sync.
Be careful when modifying existing machinery wrt CE marking
juli 15, 2016
In case you want to modify existing machinery, you need to determine whether the modification is a 'substantial' modification. If the outcome is that the modification is substantial, the machinery has to be treated as 'new machinery', requiring a new declaration of conformity and new CE marking.
Safety first
april 21, 2016
'Safety is paramount: we will never take concessions on that', says Jean Pierre Heijster in the control room off the 'rolling road' test bench. Article BKL Engineering B.V. in Link Magazine, Special Issue, Dutch High-Tech, April 2016
ASML Cleanroom for EUV
november 17, 2015
BKL Engineering B.V. has developed and built the Lift & Rotate Tool which is used in ASML's Cleanroom for EUV.
Watch the below video of ASML's Cleanroom for EUV:
BKL is ready for the future
oktober 2, 2015
During the Holland High Tech Event 2015, we have gained a better understanding, in our known, but also new market segments and technology fields. As a result, we are able to devine our Technology Roadmap. To our surprise, we were also the winner of a balloon ride with the Holland High Tech Balloon.
New Company Film BKL
juli 9, 2015
In this corporate video the 4 services of BKL are explained: Engineering, Production, Inspection and Services.
Young Tech Tour during the Dutch Technology Week 2015
juni 4, 2015
During the Dutch Technology Week, on June 2nd, the focus was on the Young Tech Tour, for students of the secondary school VMBO, HAVO and VWO.
BKL Services s.r.o. in Brno
januari 26, 2015
BKL Engineering B.V. is proud to announce the opening of the new company location in Brno in the Czech Republic: BKL Services s.r.o. By opening the new company location, BKL has entered the Eastern European market which provides scope for growth and development.
John de Smit wint prijs OC Nuenen
augustus 1, 2013
John de Smit van BKL Engineering is maandagavond (6 januari 2014) uitgeroepen tot Nuenens Ondernemer van het Jaar 2013. Dat gebeurde tijdens de nieuwjaarsreceptie van Ondernemerscontact Nuenen (OCN) in Het Klooster. De 125 leden van OCN droegen 30 kandidaten voor. Daarvan koos een jury onder leiding van Willian Groenen drie genomineerden. Behalve John de Smit waren dat Jan Coppelmans van rioolbedrijf COR en Christ van den Akker van IT Pro. De jury koost uiteindelijk voor De Smit. Lees artikel Eindhovens Dagblad.